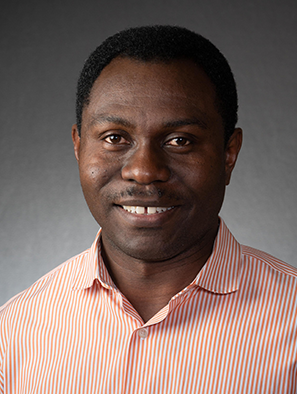 Hanson Nyantakyi-Frimpong
Assistant Professor
What I do
I am an Assistant Professor in the Department of Geography & the Environment at the University of Denver.
Specialization(s)
Human Dimensions of Global Environmental Change, Sustainable Agriculture and Food Systems, Political Ecology, Africa
Professional Biography
Trained as a human-environment geographer, I am interested in questions at the intersection of two main subfields: the human dimensions of global environmental change, and sustainable agriculture and food systems. My regional concentration is sub-Saharan Africa, with ongoing projects in Ghana and Malawi. I received my Ph.D. from the Department of Geography at the University of Western Ontario, Canada. Prior to joining the University of Denver in 2017, I completed postdoctoral research at the University of Michigan, Ann Arbor (2016-2017), and the University of Toronto, Canada (2015-2016).

Degree(s)
Ph.D., Geography, The University of Western Ontario, 2014
Research
I use a political ecology perspective to understand the social processes that shape vulnerability, adaptation, and resilience to environmental change. In particular, my research seeks to explore whether and how micro-level processes (e.g. gender and domestic politics) intersect with macro-level factors (e.g. legacies of colonialism and neoliberal reforms) to rework vulnerability and adaptation to environmental change. Part of my research also focuses on improving food security with farming practices that generate minimal ecological footprints and contribute to climate change mitigation. In line with this interest, I have done research on smallholder agroecology and its potentials to simultaneously increase yields, feed vulnerable groups, and conserve natural resources. Much of this work has been conducted directly with smallholder farmers, drawing upon their local knowledge and time-tested experimentation. I often employ data collection tools such as ethnography, environmental theater, and participatory mapping and diagramming. I am currently working on a new project investigating participatory scenario planning and climate change adaptation in northern Ghana. Working with farmers and relevant government agencies, this project is examining different climate scenarios and how these might affect seed systems, food security, malnutrition, and agricultural water management.

Key Projects
Farmer-Led Agroecological Research in Malawi
Featured Publications
(2017)
.
Land Grabbing, Social Differentiation and Food Security in Northern Ghana.

The Journal of Peasant Studies
,

44

(2)

,

421-444
.
.
(2016)
.
Urban Agriculture and Political Ecology of Health in Municipal Ashaiman, Ghana.

Geoforum
,

72

,

38-48
.
.
(2015)
.
The Relative Importance of Climate Change in the Context of Multiple Stressors in Semi-arid Ghana.

Global Environmental Chang
,

32

,

40-56
.
.
Presentations
(2018)
.
Teaching Undergraduate Geography Service Courses with a Political Ecology Framework
.
Annual Meeting of the American Association of Geographers
.
New Orleans, Louisiana, United States
.
.
(2018)
.
The Paradox of Seed Banks, Indigenous Knowledge and Agrobiodiversity Conservation Under Climate Change in Ghana
.
Annual Meeting of the American Association of Geographers
.
New Orleans, Louisiana, United States
.
.
(2018)
.
Climate Change and Health
.
Workshop on Climate, Migration and Health: A Focus on Trapped Populations
.
Boulder, Colorado, United States:

University of Colorado Population Center (CUPC)
.
.
(2018)
.
Intensive Urban Agriculture and Gendered Political Ecologies of Health in Ghana
.
Pre-PAA African Population, Environment and Health Mini-Conference
.
Boulder, Colorado, United States:

Institute of Behavioral Science, University of Colorado, Boulder, Colorado
.
.
(2017)
.
Reports from the Field: Critical Perspectives on Food and Agricultural Development in Ghana
.
African Studies Association Annual Meeting
.
Chicago, Illinois, United States:

African Studies Association
.
.
Awards
Best Articles Published in the African Geographical Review, American Association of Geographers, African Specialty Group