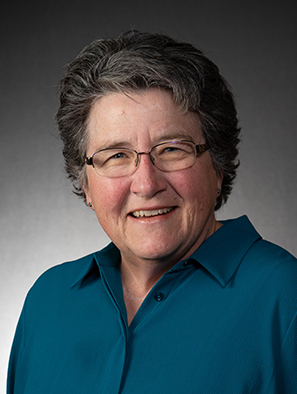 Susan Sadler
Associate Professor
303-871-3454 (Office)
Seeley G. Mudd Building, 2101 E. Wesley Ave. Denver, CO 80208
What I do
Over the years, my lab team has studied the early molecular events that trigger meiotic cell division. We have collected evidence showing that hormone-induced triggering mechanisms include:
- inhibition of adenylyl cyclase (the enzyme that synthesizes cAMP) independent of the G-alpha-i subunit of heterotrimeric G protein (by progesterone and IGF-1)
- stimulation of cGMP-inhibited phosphodiesterase type 3 (by insulin, IGF-1 and ras protein)
migration of p21ras protein to the oocyte membrane (by insulin)
- receptor-mediated endocytosis of the insulin/IGF-1 receptor (by insulin and IGF-1)
- inhibition of farnesyl transferase activity (by insulin and IGF-1) [this is the enzyme that attaches lipid anchors to the p21ras protein]
We have also evaluated how oocyte membrane fluidity and cholesterol-rich, low-density membrane domains might be affected by inducing hormones and how follicular cells that surround developing oocytes may respond to hormone signals by producing nitric oxide.
Specialization(s)
biochemistry, cell biology, Signal Transduction, Hormone Signaling, Oocyte Maturation
Professional Biography
After earning a BA in Chemistry from The Colorado College, I earned my PhD in Pharmacology from University of Colorado School of Medicine. My teaching/research career began with teaching in the Physician Assistant program at CU School of Medicine in a joint appointment between Pharmacology and Pediatrics, before joining the faculty at University of Denver.
Degree(s)
Ph.D., Pharmacology, Univ of Colorado School of Medicine, 1982
BA, Chemistry, The Colorado College, 1977
Research
Using biochemical, pharmacological, immunological and microscopic techniques, the early signaling events that trigger oocyte maturation have been investigated.
Areas of Research
Biochemistry
Cell Biology
Signal Transduction
Hormone Signaling
Oocyte Maturation
Key Projects
Dynamic Caveolin-Caveolae-Steroid Signaling Complexes
Featured Publications
The Physical Self- A look at biology for women
Presentations
"Let's Talk About Learning"
One approach to hybrid teaching/learning in a large lecture class
Awards
PPAPPA Teaching Award, Child Health Associate Program - Univ of Colo Sch of Medicine
Minority Recognition Award for Outstanding Faculty, University of Denver
Faculty Award for Excellence, NSME - University of Denver
Distinguished Teaching Award, University of Denver
Faculty Advisor of the Year, Advising Center