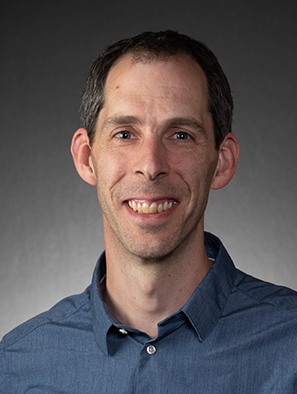 Alex Huffman
Associate Professor
What I do
I serve as a faculty member in the Department of Chemistry and Biochemistry at the University of Denver in order to inspire new generations of scientists in the classroom, to cultivate creativity and perseverance in the laboratory, and to help answer important questions about the environment and human health.
Specialization(s)
Aerosols; Bioaerosols; Instrument development
Professional Biography
After growing up in Tucson, AZ, I graduated with a B.S. in chemistry from Pepperdine University and later a Ph.D. in analytical/atmospheric chemistry from the University of Colorado-Boulder. After working for three years a postdoctoral scientist at the Max Planck Institute for Chemistry in Mainz, Germany, I returned to Colorado as a faculty member at DU in 2011. My primary area of research focus is on development, characterization, and application of techniques for the investigation of atmospheric aerosols of biological origin. My research group is motivated by questions surrounding natural environmental processes such as ice nucleation and cloud formation in the atmosphere as well as about how allergies may be exacerbated in urban areas by human pollutants.
Degree(s)
BS, Chemistry, Pepperdine University
Ph.D., Analytical/Atmospheric Chemistry, University of Colorado
Professional Affiliations
American Association of Aerosol Research
American Chemical Society
American Geophysical Union
Research
The research of the Huffman lab focuses on analytical and atmospheric chemistry, emphasizing the development and application of new scientific approaches to addressing environmental problems. Much of this work involves atmospheric aerosols (small particles suspended in the air) from both field and lab perspectives. Atmospheric aerosols can either be natural or anthropogenic (human-caused) in source and can: severely reduce sky visibility, influence the Earth's radiative balance (climate forcing) directly or through affecting cloud formation, damage ecosystems via deposition of toxic chemical species, and affect human health through respiratory, cardiovascular, and allergenic diseases. The primary research focus of the group is bioaerosols (atmospheric particles of direct biological origin) including pollen, fungal spores, and bacteria. The group has also begun working on the biochemical modification of several types of proteins. Our work involves: (1) development and improvement of advanced analytical techniques to provide better tools for the study of atmospheric aerosols, (2) characterization of particles generated in the laboratory in order to better understand physical and chemical properties that influence atmospheric effects and human health, (3) collection and analysis of field samples from all over the globe to directly measure particles from the natural environment, and (4) lab studies related to protein modification.
Areas of Research
Fluorescence
Raman
Laser-induced fluorescence
Spectroscopy
Instrumentation development
Bioaerosol detection
Atmospheric aerosols
Field study
Protein nitration
Pollen detection
Urban allergies
Ice nucleation
Featured Publications
(2017)
.
Systematic characterization and fluorescence threshold strategies for the wideband integrated bioaerosol sensor (WIBS) using size-resolved biological and interfering particles.

Atmospheric Measurement Techniques
,

10

(11)

,

4279-4302
.
.