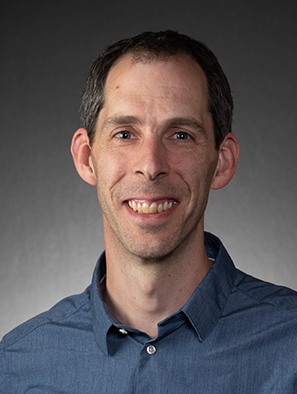 Alex Huffman
Associate Professor
What I do
I serve as a faculty member in the Department of Chemistry and Biochemistry at the University of Denver in order to inspire new generations of scientists in the classroom, to cultivate creativity and perseverance in the laboratory, and to help answer important questions about the environment and human health.
Specialization(s)
Aerosols; Bioaerosols; Instrument development
Professional Biography
After growing up in Tucson, AZ, I graduated with a B.S. in chemistry from Pepperdine University and later a Ph.D. in analytical/atmospheric chemistry from the University of Colorado-Boulder. After working for three years a postdoctoral scientist at the Max Planck Institute for Chemistry in Mainz, Germany, I returned to Colorado as a faculty member at DU in 2011. My primary area of research focus is on development, characterization, and application of techniques for the investigation of atmospheric aerosols, with special emphasis on particles of biological origin. My research group is motivated by questions surrounding the intersection of human health and aerosols, including how allergies may be exacerbated in urban areas by human pollutants and how respiratory aerosols can transmit infectious disease within the built environments. Research questions also probe the intersection of aerosols with natural environmental processes, such as ice nucleation and cloud formation in the atmosphere.
Degree(s)
BS, Chemistry, Pepperdine University
Ph.D., Analytical/Atmospheric Chemistry, University of Colorado
Professional Affiliations
American Association of Aerosol Research
American Chemical Society
American Geophysical Union
Media Sources
Research
The research of the Huffman lab focuses on analytical and atmospheric chemistry, especially focusing on multidisciplinary aspects of aerosol science, with emphasis on the development and application of new scientific approaches to addressing environmental and human health challenges. Most of this work involves atmospheric aerosols (small particles suspended in the air) from both field and lab perspectives. Atmospheric aerosols can either be natural or anthropogenic (human-caused) in source and can: severely reduce sky visibility, influence the Earth's radiative balance (climate forcing) directly or through affecting cloud formation, damage ecosystems via deposition of toxic chemical species, and affect human health through respiratory, cardiovascular, and allergenic diseases. In particular, respiratory aerosols within the context of the built environment can have dramatic impacts on human health, as we have all seen during the COVID-19 pandemic.

The primary research focus of the group is bioaerosols (airborne particles of direct biological origin) including pollen, fungal spores, bacteria, and viruses. The group is also involved in work on the biochemical modification of several types of proteins, both within the human body and associated with biological particulate matter. Our work involves: (1) development and improvement of advanced analytical techniques to provide better tools for the study of atmospheric aerosols, (2) characterization of particles generated in the laboratory in order to better understand physical and chemical properties that influence atmospheric effects and human health, (3) collection and analysis of field samples from around the globe to directly measure particles from the natural environment, (4) lab and field studies related to protein modification, and (5) investigation of processes related to the transmission and prevention of diseases spread through respiratory aerosols. Recent or current projects included the development, characterization, and deployment of inexpensive instrumentation for the detection of pollen and fungal spores using single-particle fluorescence spectroscopy, and, separately, for the detection of cloud condensation nuclei. During the COVID-19 pandemic the group has been actively engaged with efforts to model risk from virus-containing respiratory aerosols and to monitor indoor carbon dioxide levels as a proxy for airborne risk. Several on-going projects look into the processes by which proteins are nitrated and the associated health effects they pose. Through all projects the Huffman group takes a quantitative analytical approach to technique development and problem-solving.
Areas of Research
Fluorescence
Raman
Laser-induced fluorescence
Spectroscopy
Instrumentation development
Bioaerosol detection
Atmospheric aerosols
Field study
Protein nitration
Pollen detection
Fungal spore
Mold spore detection
Urban allergies
Ice nucleation
Cloud condensation nuclei
Respiratory aerosols
COVID-19 transmission
Airborne virus transmission and prevention
Particle filtration
Carbon dioxide sensing
Respiratory aerosol modeling
Key Projects
A miniaturized, lower cost static diffusion chamber for cloud condensation nuclei measurements
A Raman microspectroscopic system to transform analytical capability for detecting and characterizing aerosol particles
An Airborne, Miniaturized Cloud Condensation Nuclei Counter
Atmospheric nitration of proteins in urban air and links to agent detection strategies(STIR Grant/ARO Research Area 2.2: Environmental Chemistry)
Investigation of molecular tracers and direct measurements of biological particles during the BEACHON-RoMBAS and INUIT-BACCHUS-ACTRIS campaign
Role of HVAC Systems in the Transmission of Infectious Agents in Buildings and Intermodal Transporation
Presentations
(2020)
.
Viral Aerosol Transmission in a Time of COVID
.
Physics and Astronomy Seminar
.
Remote:

University of Denver, NSM Physics Department
.
.
(2021)
.
Advocacy, health safety, controls in schools
.
DELTA CONCERNS OF U.S. SCHOOL REOPENINGS AND REDUCING AIRBORNE TRANSMISSION
.
Remote:

Speak Up America
.
.
(2021)
.
Overview of COVID transmission and prevention
.
WHEN, WHERE, AND WHY: COVID VACCINES?
.
Remote:

University of Denver Knoebel Institute for Healthy Aging
.
.
(2021)
.
Using Modeled Respiratory Aerosol and Measured CO2 to Inform COVID-19 Risk Prevention on a University Campus
.
39th Annual Meeting of the American Association for Aerosol Research
.
Virtual:

American Association of Aerosol Research (AAAR)
.
.
(2021)
.
An Openly Available Database for Public Education and to Combat Misinformation about Respiratory Aerosols
.
39th Annual Meeting of the American Association for Aerosol Research
.
Virtual:

American Association of Aerosol Research (AAAR)
.
.
(2019)
.
Detection of Atmospheric Biological Aerosols: Pollen, Spores, and Nitrated Proteins
.
Weizmann Institute: Faculty of Chemistry Seminar
.
Rehovot, Israel:

Weizmann Institute of Science
.
.
(2018)
.
Laser-induced fluorescence of bioaerosols: Overview of recent work in the Huffman Group
.
Aarhus University: Interdisciplinary Network Atmospherica Seminar
.
Aarhus, Denmark:

University of Aarhus
.
.
(2021)
.
Overview, Techniques, and Experimental Applications in Lab and Field
.
39th Annual Meeting of the American Association for Aerosol Research
.
Virtual:

American Association of Aerosol Research (AAAR)
.
.
Awards
Faculty Service Award, Natural Sciences and Math
DU Faculty Career Champion, University of Denver
Editor's Pick Article, Optics Express Journal