Advising & Career Services
Studies show that mentor programs have a direct, positive impact on student success in the classroom and graduation rates. When polled on the effectiveness of our faculty leadership, our students consistently identify faculty availability and support as the most positive aspect of their learning experience.
In addition to access to faculty in classrooms and labs, we offer tailored programs to engage students based on individual interests.
"I suggest you connect with at least three individuals: a person who seems like yourself, a person who is different but you trust, and a faculty, coach or staff member who can mentor you and help you begin to navigate DU. Listen to their stories, tell yours [and] learn to connect through your stories." Previous DU Chancellor, Rebecca Chopp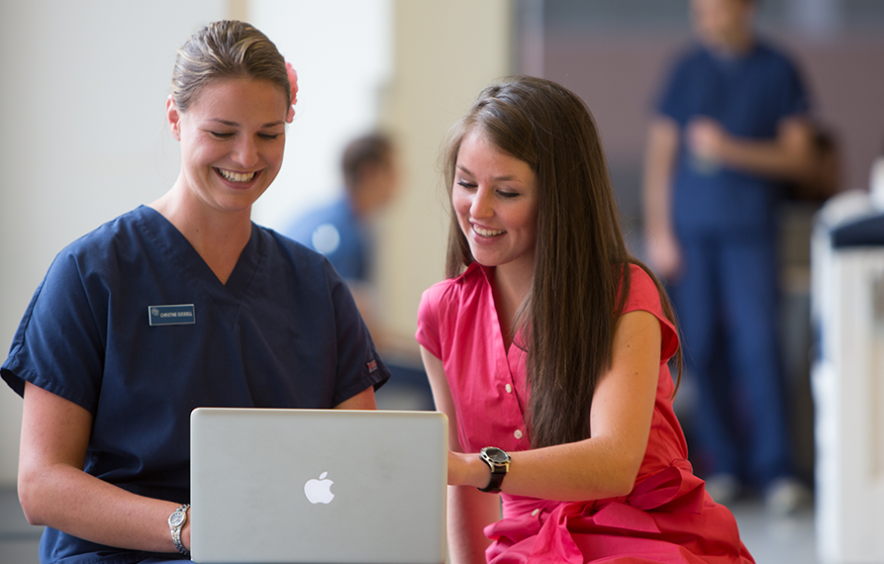 Pre-health Education & Advising
Are you an undergraduate interested in medicine, dentistry, physical therapy, veterinary medicine, pharma or physician assistant studies? Our dedicated Pre-Health Advising Center offers support from the start of your freshman year through graduation and beyond.
Learn More
Cultivating an inclusive community for bright minds
In all of our programs, we incorporate the University's values, engaging our community's rich diversity of students, faculty, staff and alumni. Learn more about our programs geared toward increasing engagement and success in STEM.
Equity in STEM
E-STEM aims to nurture the success of incoming undergraduates from historically underrepresented backgrounds studying science, math or engineering. E-STEM is made possible through a partnership with the Ritchie School of Engineering & Computer Science and the Center for Multicultural Excellence.
Learn More
Mentoring Face2Face
This program connects first-year Natural Sciences and Mathematics undergraduate students with mentors from a variety of academic, professional and social backgrounds. If you are looking to connect with a mentor in science and math, please reach out to our Inclusive Excellence fellow, Loryn Rumsey.
Contact Us
Pathways to Success
This professional development program offers opportunities for all science and math students to enhance professional growth through workshops that focus on career exploration, resume building and internship and summer research position scouting. Check out our events calendar for upcoming workshops.
View Calendar
Career Services
Career@DU is a collection of career offices across campus designed to meet the needs of every student. Whether you are a traditional undergraduate, a graduate student in a professional program or a student with unique needs, they have career advisors and programs dedicated to supporting your success. 
Undergraduate Students

Science and math majors can contact Sarabeth (SB) Morofsky for career advising, help with internship applications, resume preparation and graduate school scouting.
Sarabeth.morofsky@du.edu

Graduate Students

Contact Patricia Hickman for student-centered advising in the areas of networking, careers in research and development, job opportunities and connecting with alumni.
patricia.hickman@du.edu
 

Pioneer Careers

DU's career portal communicates upcoming workshops, exciting professional networking opportunities on campus, job and internship fairs and tips for career-focused students to get ahead.