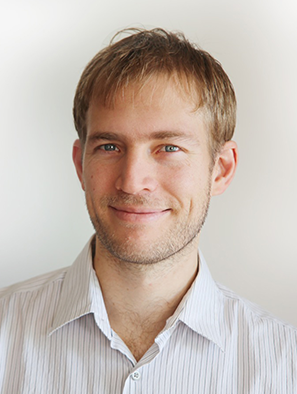 Cedric Asensio
Associate Professor
Faculty
Molecular & Cellular Biophysics
303-871-3961 (Office)
Seeley G. Mudd Building, 2101 E. Wesley Ave. Denver, CO 80208
What I do
Cell biologist with research and teaching interest related to membrane trafficking in health and disease.
Professional Biography
I obtained my bachelor's and master's degrees in biochemistry from the University of Geneva in Switzerland. In 2005, I received my PhD from the University of Geneva for my work on the interplay between the beta-adrenergic system, adipose-secreted factors and energy homeostasis. I then moved to University of California, San Francisco to work as a postdoctoral fellow. In the fall of 2014, I joined the Department of Biological Sciences at the University of Denver as a tenure-track faculty.
Degree(s)
Ph.D., Biochemistry / Endocrinology, University of Geneva, 2005
Professional Affiliations
American Society for Cell Biology
American Diabetes Association
American Heart Association
Research
The regulated release of proteins, such as peptide hormones and neuropeptides, in response to physiologically appropriate signals depends on their sorting to a type of secretory vesicles capable of regulated exocytosis. Beta-cells of the pancreas, for example, accumulate insulin into intracellular secretory granules, and release it into the blood stream in response to hyperglycemia in order to maintain normal blood glucose levels. Defects in the secretion of peptide hormones underlie the development of metabolic complications such as type 2 diabetes, but, surprisingly, the steps leading to the formation of these secretory vesicles, which determine their release properties, are still not well understood. Our research aims at determining the mechanisms controlling the biogenesis of these vesicles and its significance for regulated release. Our work will lead to a better understanding of a cell biological process crucial for physiology, behavior, and development.
Areas of Research
http://cedricasensiolab.weebly.com
Key Projects
Formation of the Regulated Secretory Pathway: a View from the Cytosol
Biogenesis of Endocrine Secretory Granules
Cellular Mechanism Controlling the Formation of Large Dense Core Vescles
Molecular Mechanisms Controlling the Biogenesis of Secretory Granules
Featured Publications
(2017)
.
HID-1 controls formation of large dense core vesicles by influencing cargo sorting and trans-Golgi network acidification.

MOLECULAR BIOLOGY OF THE CELL
,

28

(26)

,

3870-3880
.
.
(2018)
.
The CaMKII/NMDA receptor complex controls hippocampal synaptic transmission by kinase-dependent and independent mechanisms.

Nature Communications
.
.
(2018)
.
Dysfunction of homeostatic control of dopamine by astrocytes in the developing prefrontal cortex leads to cognitive impairments.

Molecular Psychiatry
.
.
Awards
Excellence in Research NSM award, NSM