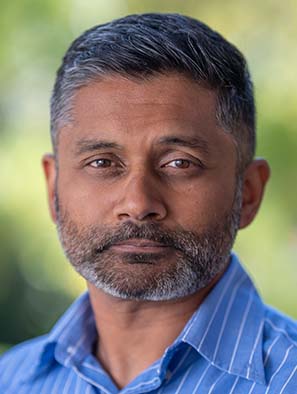 Dhaval Kartik Vyas
Adjunct Faculty
F.W. Olin Hall, 2190 E. Iliff Ave. Room 102 Denver, CO 80210
What I do
I am an Assistant Teaching Professor in the Department of Biological Sciences.
Specialization(s)
Teaching, animal behavior, ecology
Professional Biography
As a scientist, I like to answer questions about animals. I study animal behavior and unravel the puzzle of why and how animals behave in different ways. My research journey includes time spent studying primates, elephants, and insects. In addition to research, I am invested in improving science literacy among college students. I teach biology classes for non-biology majors with the aim of training non-scientists how to find, evaluate, and share science information.
Degree(s)
BA, Animal Behavior, Bucknell University
MS, Biology, Georgia Southern University
Ph.D., Ecology, Colorado State University
Presentations
(2020)
.
Diet mediated immune response to parasitoid attacks on a caterpillar with a broad diet breadth
.
Entomological Society of America, Annual Meeting
.
Virtual:

Entomological Society of America
.
.
(2021)
.
The influence of host plants on the immunology of Fall webworm
.
Annual Meeting of the Lepidopterists' Society
.
Virtual:

Lepidopterists' Society
.
.