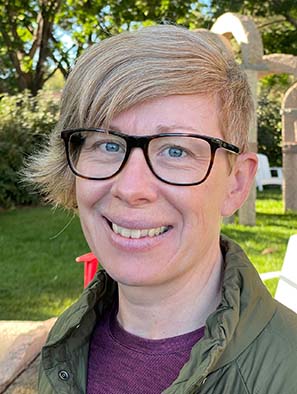 Helen McGrath
Grant Administrator
303-871-7888 (Office)
Boettcher Center West, 2050 E. Iliff Ave. Suite 228
What I do
Helen has worked in project management roles within the marine survey industry for 5 years in both the UK and Norway, before moving to the U.S in 2017. Helen has a passion for deadlines, proposal writing and budgets, she uses these skills to support NSM faculty in their research grants.
Degree(s)
Master of Science, Marine Ecology & Environmental Management. Queen Mary, University of London, UK.
Bachelor of Science (with honors), Marine Biology. University of Aberdeen, Scotland, UK.
Licensure / Accreditations
PADI Open Water Scuba Instructor
PADI Emergency First Responder Instructor
Professional Affiliations
Staff Advisory Council Co-Secretary, 2021–present
Staff Advisory Council Representative 2020–present
Featured Publications
Kemp, K. M., Jamieson, A. J., Bagley, P. M., McGrath, H., Bailey, D. M., Collins, M. A., & Priede, I. G. (2006). Consumption of large bathyal food fall, a six month study in the NE Atlantic. Marine Ecology. Progress Series (Halstenbek), 310, 65–76. https://doi.org/10.3354/meps310065