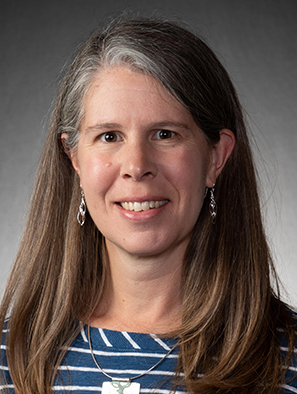 Hillary Hamann
Teaching Professor
Director, Sustainability Minor
What I do
Purpose: To share my own passions and develop in students an appreciation of the natural world and its workings, the inquiry skills to understand our interactions and impacts, and the desire and tools to work toward a sustainable future.
Specialization(s)
geosciences, water resources, sustainability
Professional Biography
I am a geographer with broad interests in hydrology, geomorphology and water resources. I received my B.A. in Environmental Science from Wesleyan University and my M.A. and PhD in Geography from the University of Colorado at Boulder and have held faculty positions at Colorado College and the University of Colorado at Colorado Springs. My research has focused on runoff flowpaths, water quality and the effects of natural and anthropogenic disturbance—pollution, climate change, wildfire and deforestation—in alpine and tropical watersheds. A background in outdoor leadership and environmental education has also led to my interest and focus on pedagogy, geoscience education and water resource literacy. As a Teaching Professor in the Department of Geography and the Environment I teach classes in environmental systems, hydrology, water resources, earth history and sustainability. I also serve as the director for DU's Sustainability Minor program. I am active in the ecological restoration efforts of the Wildlands Restoration Volunteers, serve on the Board of Directors of the Catamount Center for Environmental Science and Education, and was a part of the Colorado Foundation for Water Education 2015 class of Water Leaders. In my spare time, you'll usually find me outdoors running, hiking, backpacking or skiing, in my studio metalsmithing, or in my garden with my chickens growing and harvesting fresh produce for a great meal.

Degree(s)
Ph.D., Geography, University of Colorado, Boulder, 2002
MA, Geography, University of Colorado, Boulder, 1998
BA, Earth & Environmental Science, Wesleyan University, 1994
Professional Affiliations
American Association of Geographers
National Association for Geoscience Teachers
Water Education Colorado
Media Sources
Research
My past research has focused on watershed hydrology using water sampling and natural biogeochemical tracers to understand flowpaths in snowmelt-dominated, tropical forest, and burned watersheds. As a Teaching Professor, my scholarship has expanded to address teaching and learning pedagogy in the geosciences and the field of water resource literacy and sustainability. My recent advising and collaboration with graduate and undergraduate students has yielded research projects that include: development of a flood risk information system in Boulder County, the socio-ecological impacts of mega-hydropower projects in Chile, analysis and monitoring of inflow streams to Payette Lake in Idaho, the spatial variation and impact of dust layers on snowpack stability, and the use of benthic macro-invertebrates to monitor stream quality and the treatment of acid mine drainage.
Areas of Research
Hydrology
Snow Hydrology
Water Quality
Water Resources
sustainability
Geoscience Education
Featured Publications
(2002)
.
Alpine areas as early warning indicators of climate change
.
Geographical Review
,

92

(2)

,

180-191
.
.
Presentations
(2017)
.
Effective Water Education: From Abundant Information to Authentic Relevant Understanding (panel), Breaking Down Complex Water & Environmental Topics
.
Advancing Environmental Education
.
Denver, CO:

Colorado Alliance for Environmental Education
.
.
(2018)
.
Developing a Flood Risk Information System for Colorado
.
American Association of Geographers Annual Meeting
.
New Orleans, LA:

AAG
.
.
(2016)
.
Beyond the Armchair II: Tips and Strategies for Teaching International Field Classes -- Andean Landscapes
.
American Association of Geographers Annual Meeting
.
San Francisco, CA:

American Association of Geographers
.
.
(2015)
.
Engaging Large Lectures with Kinesthetic Learning: Examples from an Introductory Environmental Systems Course
.
Earth Educators Rendezvous
.
Boulder, CO:

National Association of Geoscience Educators
.
.
(2010)
.
Wildfire ash effects on water quality
.
American Association of Geographers Annual Meeting
.
Washington, D.C:

American Association of Geographers
.
.
Awards
Water Leader, Class of 2015, Colorado Foundation for Water Education
Division of Natural Sciences and Mathematics 2012-2013 Excellence in Teaching Award, DU, NSM
Honorable Mention, IUFRO Forests and Water in Warm, Humid Asia conference