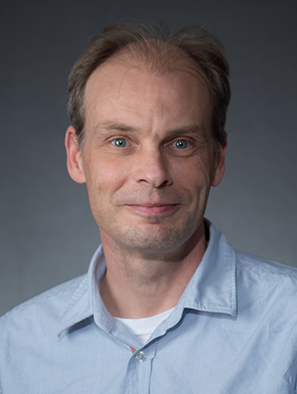 Martin Margittai
Professor
Faculty
Molecular & Cellular Biophysics
303-871-4135 (Office)
Seeley G. Mudd Building, 2101 E. Wesley Ave. Denver, CO 80208
What I do
I teach undergraduate and graduate courses in chemistry/biochemistry and study protein aggregation in Alzheimer's disease and other neurodegenerative disorders.
Degree(s)
Ph.D., Biochemistry, Freie Universität Berlin, 2001
MS, Biochemistry, Freie Universität Berlin, 1997
BS, Biochemistry, Freie Universität Berlin, 1995
Professional Affiliations
American Chemical Society
American Society for Biochemistry and Molecular Biology
Research
The folding of proteins into correct three-dimensional structures and the control over their intermolecular interactions is of central importance to the proper functioning of cells. A complex machinery has evolved that assists in folding and ensures proper protein contacts. Malfunctioning of this machinery can lead to protein misfolding and result in fatal human diseases including Parkinson's disease and Type II diabetes. A characteristic feature of most misfolding diseases is the deposition of proteins into fibrillar inclusions and plaques. Research in our lab focuses on the misfolding of the microtubule associated protein tau. Tau fibrils are found in numerous neurodegenerative diseases including Alzheimer's disease and progressive supranuclear palsy. The formation of fibrils is a multistep process starting from monomeric disordered tau. The conformational changes leading to oligomers and the progression into mature fibrils are only poorly understood. Our lab uses a broad range of biophysical approaches to obtain structural insights into the misfolding of tau. We are furthermore interested in elucidating the cellular mechanisms that control tau function and prevent fibril formation. A detailed molecular understanding of the tau structures involved, their conformational transitions, and cellular control appears to be an important prerequisite towards developing new drugs that intervene in the aggregation process.
Featured Publications
(2017)
.
Revealing Conformational Variants of Solution-Phase Intrinsically Disordered Tau Protein at the Single-Molecule Level.

Angewandte Chemie International Edition
,

56

(49)

,

15584-15588
.
.
(2014)
.
Amplification of Tau Fibrils from Minute Quantities of Seeds.

Biochemistry
,

53

,

5804-5809
.
.
(2012)
.
Conformational Basis for Asymmetric Seeding Barrier in Filaments of Three- and Four-repeat Tau.

Journal of the American Chemical Society
,

134

,

10271 - 10278
.
.