Chemistry & Biochemistry
Our goal at DU is to help students realize their highest potential as scientists and scientifically-literate citizens. In the Department of Chemistry and Biochemistry, students will learn from a knowledgeable faculty dedicated to excellence in student-centered education and bench research.
Undergraduate and graduate students alike gain experience on state-of-the-art equipment and have access to focused instruction as well as high-level research, preparing them for further coursework or a wide variety of careers in chemistry, biotechnology and biomedical sciences.
Scholarship + Substance
Chemistry and biochemistry degree options help students discover the unseen properties of nature's elements. In addition to traditional BA and BS options, we offer a BSch, a degree accredited by the American Chemical Society which comprehensively preps students for graduate studies. 
Graduate degrees are research-focused, working with faculty experts in the areas of environmental chemistry, biochemistry, biophysics, organic chemistry and spectroscopy. 
"I love my biochem labs. There are only four undergrads, one grad student and one PhD student. We're working as a team...and maybe we can refine this pathway and make a new type of treatment to stop tuberculosis."

Brenda Sanchez, Class of 2019
Driving Research with Innovation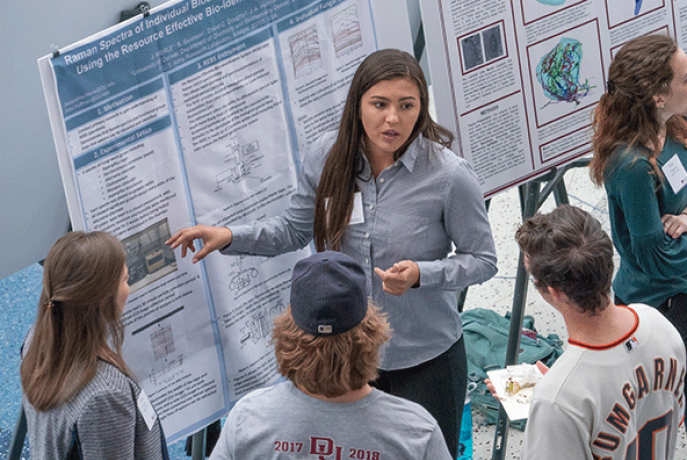 We believe intensive research is a crucial element of a comprehensive chemistry education. We're proud to offer research opportunities to both graduate and undergraduate students, with access to projects working toward collective solutions to local, regional and global challenges.
Areas of faculty expertise include environmental chemistry, biochemistry and biophysics, imaging and spectroscopy, organic chemistry, medicine and disease research.
Applications in Healthcare and Medicine
Pre-Health Advising for Undergraduates

Our Pre-Health Advising office works to prepare students interested in careers in healthcare, guiding them into internships with community partners as well as health-related research and training opportunities.

Molecular and Cellular Biophysics PhD Program

Chemists and biochemists bring knowledge and expertise to the growing interdisciplinary field of biophysics. DU's molecular and cellular biophysics PhD program offers students access to exciting interdisciplinary faculty research.

Knoebel Institute for Healthy Aging

DU's Knoebel Institute for Healthy Aging is a multidisciplinary collaborative on campus including biochemistry faculty who are researching protein behavior and gaining key insights into neurodegenerative diseases such as Alzheimer's. 
Contact the Department of Chemistry & Biochemistry
Mary Shonk, Assistant to the Department Chair
Office: Olin Hall 202
Email: mary.shonk@du.edu
Phone: (303) 871-2436