1Day4DU 2021 is Tomorrow!
Support E-STEM and Girls' Summer SciTech Camps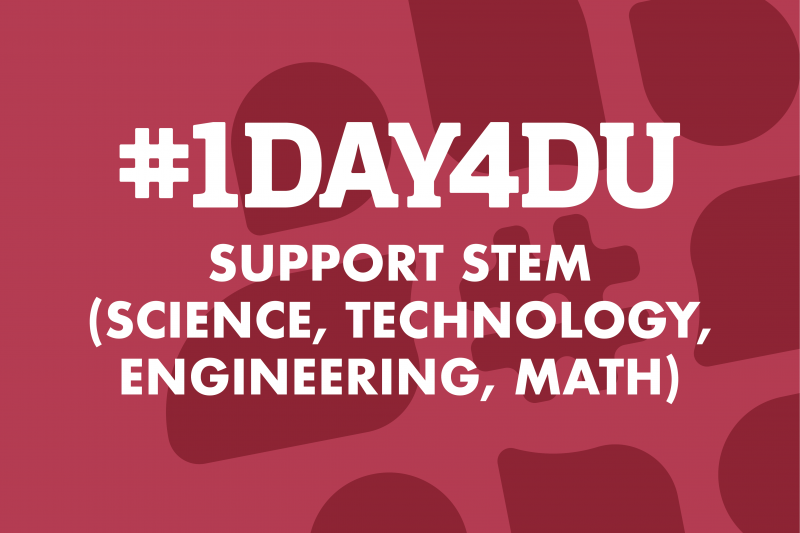 The College of Natural Sciences and Mathematics is participating in this year's 1Day4DU fundraising effort with two projects. Our dean, Andrei Kutateladze:
---
Hello colleagues,
Tomorrow, May 19, is DU's annual 24-hour celebration of giving called 1Day4DU. On this special day I encourage you to join me in supporting NSM with a donation—of any size—as participation is key to our success. Gifts to any university fund are counted, including scholarships, or the student assistant fund, but NSM is highlighting two special projects below that are a great place to make an investment this year.
Equity in STEM (E-STEM)
Fund number: 45028111
Short for Equity in Science, Technology, Engineering and Math, E-STEM is a partnership between the College of Natural Sciences and Mathematics, the Ritchie School of Engineering & Computer Science and the Center for Multicultural Excellence. This program creates pathways to academic success for students from underrepresented groups in the fields of science, math and engineering. By funding this program you're saying yes to diversity, yes to community, and yes to the next generation of leaders.
Learn more and support E-STEM here.
SciTech Summer Camp for Girls
Fund number: 45010034
DU SciTech Summer Camp for Girls offers local, middle-school-aged girls a week-long immersion in biodiversity and ecology, computer programming, technology, physics, and astronomy. Led entirely by faculty from DU's College of Natural Sciences and Mathematics, this camp is offered free of cost and provides campers with hands-on experience. Dollars raised will ensure that all 16 girls from lower income communities are able to attend while graduate student mentors are paid a fair wage. Exclusive for SciTech Summer Camps: Wendy Dratler Selin has challenged us to reach $5,000 with a matching gift!
Learn more and support SciTech Summer Camp for Girls here.
If you have any questions about making a gift, please reach out to our Executive Director of Development, Sara Buhr at sara.buhr@du.edu. She is standing by today to help.
Thank you for your participation,
Andrei Kutateladze, PhD
Dean, College of Natural Sciences and Mathematics
University of Denver