DU Wins NSF ADVANCE Grant for Improving Equity in STEM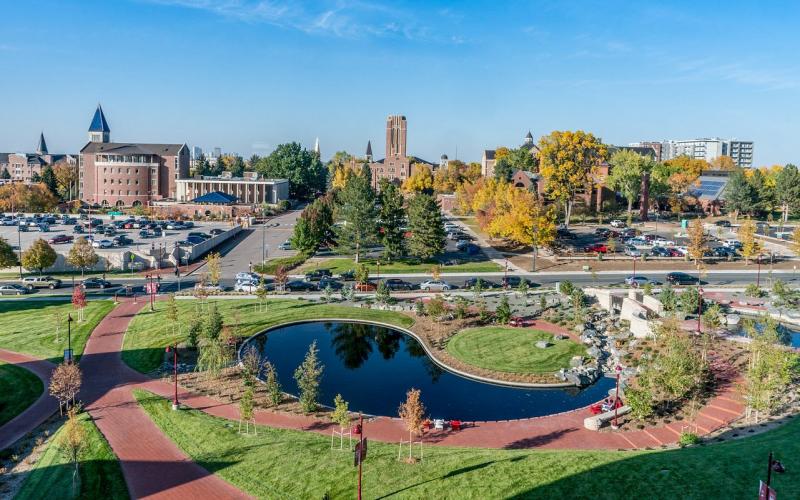 Three years ago, Anna Sher, a professor of biology in the University of Denver's College of Natural Sciences and Mathematics, called a meeting of women leaders from across the department. This would ultimately become the STEM Women Faculty Association, and since then, its members have dedicated themselves to understanding and addressing the needs of women-identified faculty.
This month, Sher's work has resulted in a prestigious Natural Science Foundation ADVANCE grant. The nearly $1 million grant, aimed at creating organizational change for gender equity in the science, technology, engineering and mathematics (STEM) disciplines, will allow the University to launch a new program, DU MERISTEM.
"My own experience was one of feeling very isolated and alone," Sher recalls. "I would have benefited a lot from particularly a mentorship program, but also from more awareness by the community of what it means to be a woman in science and a mother in science. People just don't know."
The grant, which will fund three years of work, was the product of a team assembled by Sher of committed individuals from disciplines across the University. DU Provost Mary Clark served as the grant's principal investigator, and Sher was joined by three others as co-principal investigators: Corinne Lengsfeld, DU's senior vice provost for research and graduate education; Kristin Deal, director of the Office of Diversity, Equity and Inclusion; and Deb Ortega, professor and director of the Latinx Center. In addition to this leadership team, nearly 50 faculty, administrators and staff members, including NSM grant coordinator Helen McGrath, joined the effort.
From the beginning, forming a diverse, interdisciplinary group was seen as critically important, says Ortega, who was DU's first Latina full professor when she was appointed in the Graduate School of Social Work. She joined the team to provide expertise on race and gender, language, interventions and conceptual frameworks.
"I like to think about it in terms of families. Sometimes when we live and breathe something and we have traditions, some of those traditions and belief systems are great and some of them are problematic," Ortega says. "One of the best ways to change a system is to … get an outside perspective about what's working and not working because sometimes we are too close, and we don't see. By opening this up [to people in other disciplines], you get that perspective."
Through DU MERISTEM (named for the tissue responsible for a plant's growth, development and healing), this coalition from across the University will work to create long-term sustainable change that benefits the entire community.
Based on numerous meetings, surveys and conversations, the team has identified three key priorities: improving hiring practices to increase diverse representation; increasing support across an individual's career trajectory; and making the overall climate more positive for women and other people who are historically underrepresented.
Mary Clark, DU's provost and a long-time women's rights advocate, says the grant and the work it funds have the chance to put ideas into action for the good of DU's future.
"What I hope to see is an expansion of opportunities for women and underrepresented minority faculty in STEM and a realization of individuals' hopes and dreams for their careers in STEM," Clark says. "This is an opportunity for the University to learn about the role of mentorship and promoting access to opportunity and to leadership."
This work is particularly important in the STEM fields, says Lengsfeld, who is also a faculty member in the Daniel Felix Ritchie School of Engineering and Computer Science.
"In the sciences, only 2% of the faculty might be women, depending on your discipline. And that's those who get job offers. And then tenure is kind of a hard thing, so you may have a success or failure rate that even makes that lower," she explains. "There are just so few [women faculty in STEM], that retaining one can have an enormous impact."
That impact is felt not only among women faculty members like Sher, but also among students. Lengsfeld notes that having women faculty members available to support young women is crucial to changing this issue for future generations.
With the work beginning soon, Chancellor Jeremy Haefner is excited to support this effort. He expects their work will impact not only the STEM fields, but also the University as a whole.
"This Advance grant represents a commitment by the University to gender equity," he says. "It's also a promise to promote the expansion of opportunity. As I have personally witnessed serving as an investigator on a previous Advance grant, all faculty — and the entire University community — are better served through efforts to better support women and underrepresented faculty members."
Work on DU MERISTEM is expected to kick off in the fall. Early projects include hiring a program coordinator, identifying faculty members who will be involved, creating steering committees for key initiatives, and identifying a first cohort of mentors.
Sher is eager to get to work.
"For a long time, I've been taking notes about the problems and feeling helpless but also committed to keep going and seeing what we could end up changing," she says. "I've been cautiously optimistic this whole time, but now I'm really optimistic. Now, I'm so glad to have the opportunity to make a difference, not just for my fellow women faculty in STEM at DU, but for the University as a whole."
More information about MERISTEM can be found at the program's website.