First-Year Students Set Sail in Ritchie Center Pool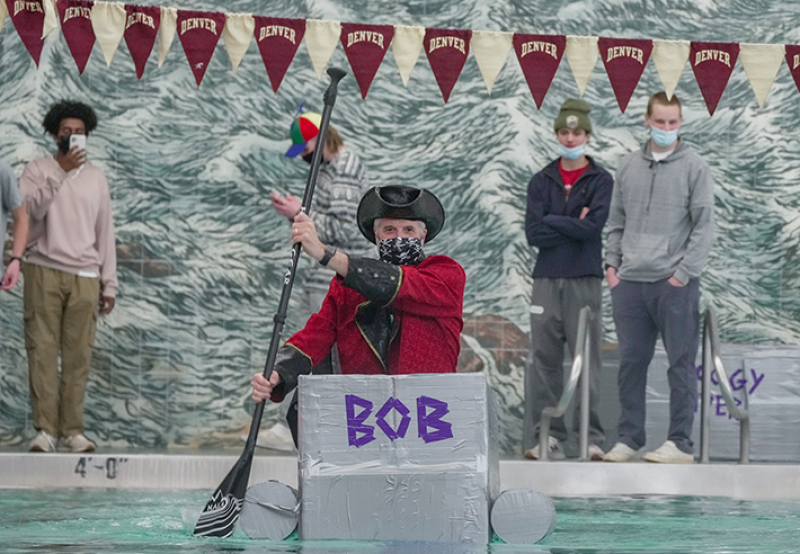 If the idea of constructing a boat out of cardboard and seeing if it will float doesn't sound like a typical college course, well it's not. But that's also the purpose of the first-year seminar program (FSEM) at the University of Denver.
Since 2006, faculty from the College of Arts, Humanities and Social Sciences (CAHSS) and the College of Natural Sciences and Mathematics have collaborated to offer dozens of experiential and offbeat FSEM courses each fall. These small classes, required for every first-year student, are taught by faculty mentors who facilitate learning on subjects they are passionate about. For Keith Miller, an associate professor of chemistry, his interest in pirates became the focus of his course.
"It's a fun topic and a great way to get students' minds off the pandemic," Miller says. True to pirate culture, he allowed students to vote on their syllabus, just as pirates would vote for their captain and would have a say in the voyage's destination. In fall 2021, students also voted on their final project: creating boats from humble cardboard and duct tape that Miller could safely sail across the pool at the Ritchie Center's El Pomar Natatorium.
Students spent fall quarter analyzing pirates and their stories to identify the underlying science, technology, engineering and math (STEM) concepts behind them. They researched scientific principles and discussed literature on informal science education.
"The thing I really wanted to be able to do is connect with the students and show them the love of learning," Miller says. "My time with them during the quarter was just trying to get them to relax, have fun and show them you can learn something new while having fun."
The class was largely made up of engineering, science, business and sociology majors. They worked together to develop two different boat concepts that were refined throughout the quarter.
"We had to think about the physics and engineering of the designs and come up with ideas and see what would work," says Camille Cruz, a biochemistry major. "We constructed model ships and tested them, and then we did more development of the boats until we came up with the two final designs."
When it was finally time to test Bob and Foggy River, as the boats were affectionately named, Miller donned a pirate hat and a long red coat and paddled both boats successfully across the pool.
"We applied different ideas for weight distribution and how it impacts if a ship will sink," computer engineering major Addis Mulugeta says. "This experience really taught me to be creative, use your imagination and expand on any ideas you may have. Even if it fails, you still tried."
The students' reward for keeping Miller dry during his journey? An 'A' grade for their class project.