DU Soccer Standout Ready to Shine in National Women's Soccer League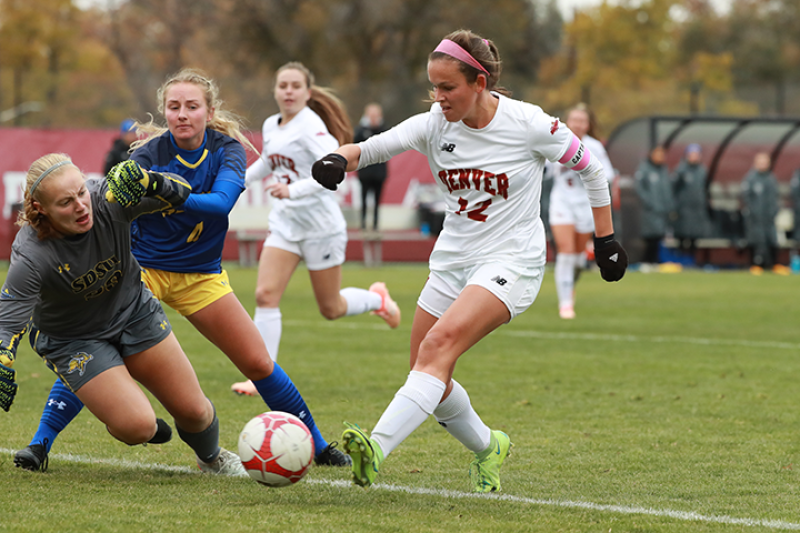 It was a tense December afternoon for Natalie Beckman. Watching on a computer with her family, she could only sit and wait, not knowing if her name would ever be called.
After nearly four agonizing hours and hearing the names of 47 other college student-athletes, Beckman's phone finally rang and her name was announced. She was selected by the Portland Thorns, becoming only the third University of Denver women's soccer player to be drafted into the National Women's Soccer League (NWSL).
"I had no idea if I would get drafted," she says. "It makes you proud of your background and where you came from and how thankful you are for the people who have helped you."
Beckman grew up in Aurora, Colorado, playing youth and club soccer before attending Grandview High School, where she was a three-time state champion. She ultimately decided to stay close to home, attending DU to play for the Pioneers, so that her family could continue to watch her compete.
In her four years with the Pioneers, Beckman personified what it means to be a teammate everyone can depend on. She never missed a single game and started in all but two.
"I definitely was very fortunate and very lucky," she says about staying healthy and largely injury-free. "Injuries are something that come with this sport. Of course, I would occasionally get banged up. There was one point where I was barely walking on my ankle, and I was like, 'Well, I have a game tomorrow, it will be fine.'"
By the time Beckman was a junior, she was one of the leaders in the country in assists. And although the COVID-19 pandemic delayed their season several months and created uncertainty around whether they would be able to play, the Pioneers had their best finish in nearly a decade.
Through all her success on the field, Beckman also excelled in the classroom. She says math is a subject that has always come easily for her. Couple that with her love for kids, and it's no wonder Beckman hopes to one day become a math teacher. She graduated at the end of winter quarter with a major in math and three minors in business analytics, psychology and Spanish.
For now, her teaching career will have to wait. Beckman moved to Portland earlier this year to begin training with the Thorns. Once again, her hard work paid off and led to a contract to play this season with Portland.
"This is my first time adulting away from my family," Beckman says. "It almost feels like college where I have people on my team that I get to live with. We have our routine of going to training and then coming back to the house and hanging out together."
The 2022 season has already begun, and through the preseason and Challenge Cup competition, the Thorns have yet to lose. As for Beckman, she's hoping to help the team in any way she can.
"I'm just taking baby steps at this point," she says. "There are some incredible top-tier players that I'm just so fortunate to be able to step on the field with them. I'm excited to learn from them, and I think my main role this year will be, if they need me, I'll be ready."
To learn more about this year's Commencement ceremonies, please click here.