New NSM Programs Prioritize Everyday Health
Two new offerings are redefining how the school thinks about physiology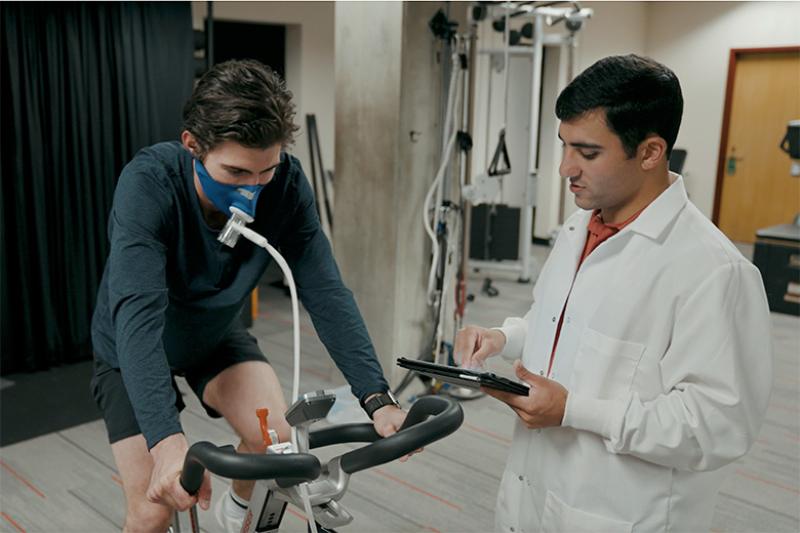 Building a healthy body requires stretching and strengthening. Building a healthy physiology program requires those things too, in an academic sense.
Two new degrees at the University of Denver's College of Natural Sciences and Mathematics are beefing up the school's offerings in exercise physiology while extending deeper into clinical work. Together, they're propelling NSM and DU to a realm rife with fresh opportunities for research and direct patient experience.
Undergraduates in the Department of Biological Sciences can now earn a degree in physiology in health and disease, while grad students, beginning this fall, can work toward a master's degree in clinical exercise physiology.
"We're really focusing on using exercise as therapy for people who have existing chronic diseases, and also to trying to prevent these chronic diseases," says Nancy Lorenzon, teaching professor in the department. "I think that's one of the things that really differentiates us from many other programs, especially in Colorado. We are really focused on improving health outcomes for all individuals."
The term "exercise physiology" is often associated with sports medicine, but DU's programs are designed to serve far more than elite athletes. The curriculum focuses on using exercise as part of a treatment plan to improve quality of life for those challenged by pulmonary and heart diseases, diabetes, cancer and nervous system degeneration.
"It's not just going to the gym," Lorenzon says. "It's really understanding the physiological challenges that each of these diseases bring and how to utilize exercise to prevent disease or better improve outcomes." These programs at DU, she adds, can serve as a step toward a career in clinical exercise physiology, physical therapy, occupational therapy, cardio-pulmonary rehab or medicine.
That's important for students who want to work in health care but don't see themselves as doctors, says Joe Angleson, an associate professor and department chair. The new programs carve out a niche beyond "basic science"—such as molecular biology—typically performed in a research lab.
Instead, NSM is creating an exercise physiology lab on campus, rolling out rubber flooring and wheeling in monitoring equipment to create a hands-on teaching space in Nagel Hall. The lab could be completed this spring and is expected to begin welcoming students and research participants by the fall.
Greeting them will be a new faculty member, hired specifically to teach courses in exercise physiology while also building and managing teaching, research and clinical efforts in the new physiology lab. Sarah Willis has served as team exercise physiologist of the Olympic cross country ski team and conducted research on altitude training and blood flow restriction.
"The big push to expand formally came in part from the chancellor, as he's expanding his interest in health in general," Angleson says. "It really does dovetail in with all the higher-level things that DU talks about, [like] community and partnerships.
As it created the physiology programs, NSM turned to National Jewish Health, a longtime friend of the University. As early as 2014, NSM began teaming with the Denver hospital to add an experiential dimension to its curriculum. Most recently, National Jewish became DU's strategic health partner, helping it navigate the COVID-19 pandemic through a bevy of spit testing and vaccine administration.
"This is going to be an additional opportunity for collaboration, both in terms of learning opportunities for students and access to a new physiology lab for teaching future health care providers, but also for research and exercise prescription for healthy subjects and patients with chronic diseases," Angleson says.
As plans came together, Angleson and Lorenzon called on Tod Olin, a pediatric pulmonologist at National Jewish who has served as an advisor and mentor to many master's students. Olin helped them solidify the partnership, which is one of the program's defining features. National Jewish physicians will teach on campus and mentor students as they gain clinical hours in the hospital.
"I think one of the things that National Jewish brings is this individual attention element. We're very interested in mentoring and career exploration and personal development, in addition to learning cutting-edge science," Olin says. "It's fun to see the light in [students'] eyes. That little sparkle where they say, 'Oh my gosh, I get it,' or, 'Oh my gosh, I'm comfortable enough to take the next risk."
Olin also sees an opportunity on the coattails of the pandemic. Students have a renewed interest in health care, he's noticed. The physiology programs, in turn, offer a chance to shift the focus of that education—from optimizing the performance of elite athletes to serving the general population.
"It's just so much more relevant to society," Olin says. "I think there's going to be so many more opportunities for the students once you expand who you're interested in—taking it from the Olympians to the person with asthma. 'How will I be able to hike all day given this chronic lung disease?' It's not a totally different mindset, but it's a really different patient population."
Lorenzon says the team at National Jewish and DU can also be excited about the additional on-campus space for gaining a better understanding of the physiological mechanisms underlying the effects of exercise on health and disease patients through research and clinical application. Plus, she says, NSM's existing classes and faculty expertise provide a safe, solid foundation on which to build a partnership.
"This is just taking one aspect, elevating it and really building toward that repertoire of what we already do well—education, research and clinical opportunities around human health and health care," she says. "We have been in the business of preparing students for professional degrees in health care fields, but this is really going the next step. It's another opportunity for students to be able to see how they can make an impact, how they can help patients manage and prevent chronic disease in a very different way."