DU Student Shares Experience with Global Masters Scholars Program
Allen Williamson is headed to Lund University in Sweden to finish program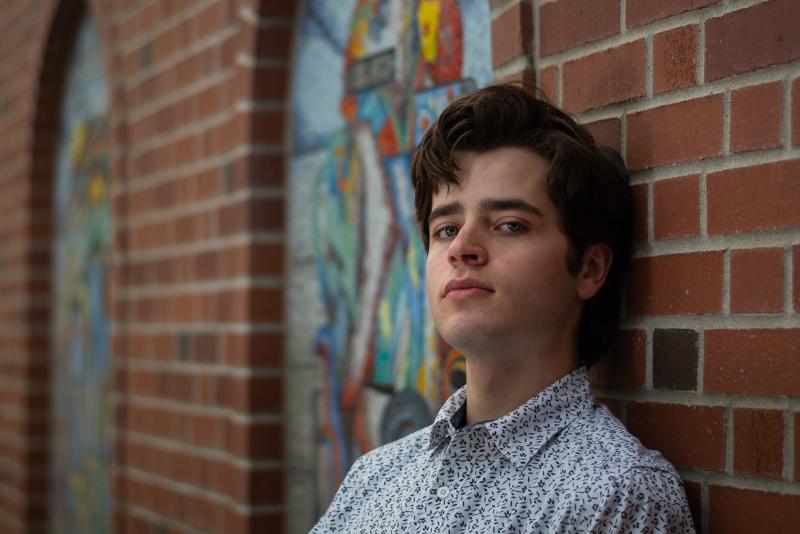 The Global Masters Scholars program is one of many programs at DU that offers a unique learning experience. While there are many resources available online that provide an overview of the Global Masters program, we wanted to look at the program from a different perspective. With this goal in mind, we turned to a student within NSM to hear his experience of the program. 
The program's model consists of the first three years of undergraduate study taking place at DU, then one year of study abroad at the partner institution (DU's fourth year). The three years at DU and one year of study abroad constitutes a bachelor's degree from DU. The fifth and final year of study takes place at the partner institution, upon completion of which the student is awarded a master's degree by the partner institution. Students enrolled at DU can opt into the Global Masters programs if they meet eligibility requirements at each university, DU's study abroad and exchange requirements, and any additional requirements specific to individual programs. 
The Global Masters program is an exciting opportunity for ambitious students to gain a master's degree in five years in new and exciting environments. Not only do students get to learn on DU's campus, taking classes with NSM's talented faculty, but they also get to enrich themselves and their education by finishing their studies abroad. The program offers a unique perspective on one's studies, and a chance to explore other countries, cultures, and ways of living.
The program partners with universities in three overseas locations, each with their own mix of programs. These locations include Lund University in Sweden, University of Glasgow in Scotland, and University of Western Australia. At Lund University, the program offers degrees in gender studies, biological sciences, political science, and geography. University of Glasgow offers masters in English literature and engineering, and finally, University of Western Australia offers degrees in business information & logistics management, biological sciences, biotechnology, environmental science, and professional engineering.
We interviewed a DU student who is currently on the Global Masters path to get a better look at what the program is like from the student's perspective. Allen Williamson, a 21-year-old Biology student from Colorado Springs, graciously agreed to tell us about his experience with the program. We asked him to describe the program in his own words, to get a perspective of the program from someone who is currently enrolled:
"For your last year of your four-year undergraduate degree, you can study abroad at a partner institution, taking graduate level courses that count for your undergraduate degree. After that year, you've completed your undergraduate degree requirements, and graduate from DU. But because you've already got some graduate courses under your belt, you can stick around at the abroad institution to finish your master's degree, which only takes one more year. That final year you are no longer a student at DU, but only a student at your new university."
Allen's desire to study abroad, as well as his goal to pursue a degree in Biology, meant that the Global Masters program was a perfect fit for him. 
"I have always wanted to study abroad as an undergraduate, but I wanted to find a program that would support my desire to further my biology education. I've also had a desire to pursue a higher degree in biology, so finding a program that let me study abroad and get a master's degree in biology was absolutely perfect." 
As a biology major focused on molecular biology, with minors in chemistry and sociology, Lund University's molecular biology program aligned perfectly with Allen's goals. Besides Allen's academic goals, he wanted to travel to Scandinavia, so the Lund University program fulfilled his personal hopes. Even though Allen is enrolled in the Global Masters program, he says that his experience as an undergraduate has still been like others not enrolled in the program. He still gets to participate in labs and engage in on-campus activities and extracurriculars. The only difference is he takes slightly different classes to prepare to study abroad.
Studying biology abroad is also a chance to magnify his learning in a new environment and absorb a new culture and location at the same time. As Allen puts it,
"I think the ability to study abroad not only enhances my knowledge as a global citizen, but also supplements the knowledge of my major. I will get to go to a renowned university and learn from experts in my field."
Essentially, Allen not only gets to study the material he wants to, but he also gets to do so in a new and exciting environment. That's the beauty of the Global Master's program: the same quality education you'd receive from the University of Denver, coupled with knowledge from respected overseas universities and the enlightening experience of studying abroad. To any students thinking about the Global Master's program, Allen has only one thing to say:
"I think this is the most exciting way to get a graduate degree, living abroad for two years while learning more about my favorite subject? An absolutely wonderful idea, I couldn't be more excited!"
More information about the Global Masters program and participation materials can be found at the GMS website. Interested students can also contact Dr. Shannon Murphy, who coordinates the Global Scholars program with Lund University.