Mt. Evans Field Station at Echo Lake
The Mt. Evans Field Station is owned by the University of Denver and operated under a special-use permit from the Arapaho & Roosevelt National Forest of the U.S. Forest Service.
The facility is available year-round for use by academic groups and individual researchers with interests in the geology or ecology of the Colorado Front Range. It is an ideal location for summer research groups, field camps or field courses. Many campus organizations and departments choose to use the facility for weekend retreats. 
This "campus" in the mountains has been in operation since 1937.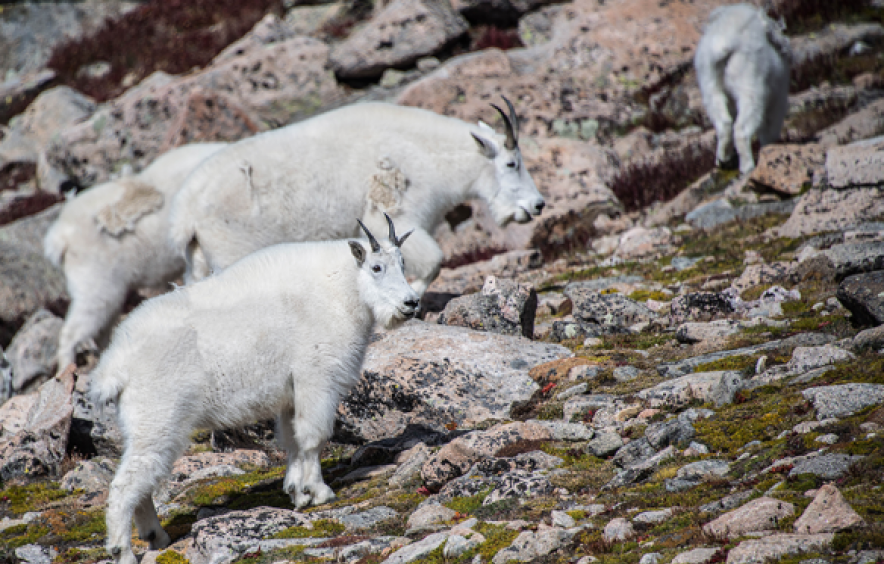 The drive from Denver to Echo Lake itself is a traverse through diverse landscapes ranging from grasslands and foothills of the Denver Basin to the montane and subalpine ecosystems of higher elevations. 
The field station rests on roughly 74,000 acres just northwest of the Bear Creek watershed and Mt. Evans Wilderness Area. The property overlooks the Denver Metropolitan Area and includes nearly 105 miles of trails.
Naturalists, birders and botanists might observe deer elk, mountain goats, big-horned sheep, ptarmigan, rosy finches, bristlecone pine and krummholz specimen, and high-altitude flowers, grasses, mosses and lichen, depending on the time year.
Location

Nestled in mature subalpine forest near Echo Lake, the Mt. Evans summit is typically accessible by vehicle from late May through late September.

A rich array of geologic features is viewable within a 90-minute drive from the field station, and visitors can easily access Rocky Mountain National Park, Central City and Cripple Creek, Florissant National Monument, the National Earthquake Center in Golden, Dinosaur Ridge and the National Ice Core Lab. 

On-Site Facilities

The Mt. Evans Field Station offers two options for overnight guests:  

A two-story lodge has central heating, a fully equipped kitchen, two bathrooms with showers, a laundry room, a walk-in pantry with two standard-sized refrigerators, and a large communal space with fireplace for use as a dining room, study area and lecture/meeting room.
A single-story cabin is available for use by individual researchers or small academic groups of up to 6 people. It features two bedrooms (one with a queen bed and one with a double bed) and one bunk bed, a large and fully equipped kitchen, central heating, a single bath with tub/shower, and a large living room with wood stove.
Reservations
The facility, location and setting are fit for groups of ten to 30 people. Buildings and site visits may be reserved by the day or week, each accommodating one group at a time.
Two-Story Dorm/Lodge
Capacity: 20-30 people
Rate: $300 per night
Single-Story Cabin (Caretaker's Cabin)
Capacity: 1-4 people
Rate: $100 per night
To reserve space with a credit card, please click here. This is the easiest way to see what facilities and dates are available and to make your reservation. 
For DU-affiliated organizations, reserve space with a budget number or as service-project fulfillment using the form below.
Cancellation Policy
Cancellations up to 1 month prior to the first day of the reservation are fully refundable. After that time, a $100 service fee will apply. 
In the event weather conditions at the Field Station are unsafe, either party reserves the right to cancel with a full refund.