Our faculty researchers are leading the charge on work with the potential to affect significant change on a worldwide scale. Many of our professors are world-renowned experts in their field, and all are dedicated to producing impactful research, often with the help of their students. Disease research, quantum physics, environmental chemistry, ecological responses to invasive species and deforestation, land use and geopolitics — these are just a few areas in which our team is uncovering new knowledge with exciting implications.
Through collective efforts, we are able to break ground in ways that have a positive impact on the greater public good.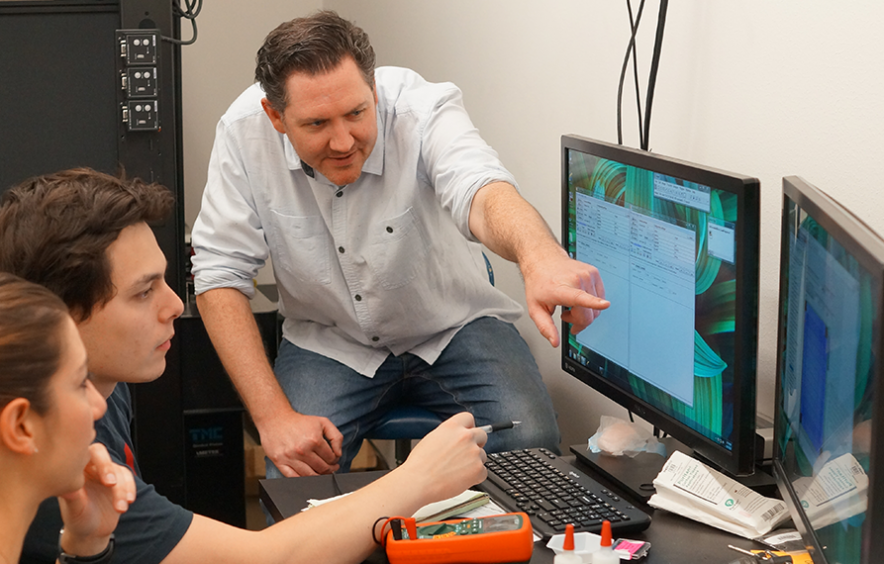 Breaking Down Barriers
We believe in the value of collaboration across disciplines. The power of cross-talk is exemplified in the work of programs like the molecular and cellular biophysics program which combines coursework and research in chemistry, physics and biological sciences. Or the Knoebel Institute for Healthy Aging, which brings researchers and thinkers from across campus together to improve quality of life and health outcomes for an aging population. 
Molecular and Cellular PhD Program
Preparing the Next Generation
As a members of the DU Natural Sciences and Mathematics community, students reap the benefits inherent to being an active researcher. Academic work is significantly strengthened with hands-on work that allows concepts learned in the classroom play out in real time.
Additionally, students involved in research will develop analytical skills that can serve them throughout many facets of life, and provides experience working on collaborative teams with common goals.
Graduate Student Researchers

Graduate students in research-focused degree programs work closely with a faculty mentor as teaching assistants or research assistants. Funding is secured through faculty grants and students can also apply for internal and external support funds. 

Undergraduate Student Researchers

Undergraduate students are afforded unprecedented access to high-level research and multi-tiered mentorship from grad students, postdocs and faculty PIs. It is common for undergraduate student researchers to publish as a co-author in an academic journal before graduation.
Funding and Partnerships
As a host for innovative, boundary-breaking research, we've established partnerships with a wide variety of national institutions. These partnerships infuse our research endeavors with resources and knowledge we otherwise may not have, which allows our work to have greater reach and impact.
Some of our current partners include:
National Institutes of Health (NIH)
National Science Foundation (NSF)
National Renewable Energy Laboratory (NREL)
National Institute for Standards and Technology (NIST)
National Center for Atmospheric Research (NCAR)
U.S. Department of Defense (DOD)
U.S. Department of Justice (DOJ)
We work in tandem with these organizations to drive R&D into the future with intention and set our students up with an expanded network and valuable experiences.